8 Days Great Apes Safari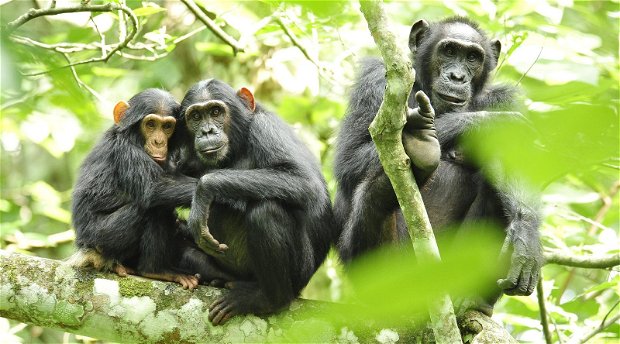 This Uganda Safari that last 8 days involves Chimpanzee Safari in Kibale Forest, a game drive in Queen Elizabeth national park and gorilla trekking in Bwindi Impenetrable Forest.
Itinerary
Day 1:
Entebbe to Kampala
Arrival at Entebbe airport. Your guide will be there waiting for you. Pick up and proceed to your accommodation.
Day 2:
Kampala to Kibale Forest National Park
We get a morning breakfast, drive to Kibale Forest National Park. We will be expected to reach late afternoon. You can make a walk around the lodge in the afternoon. During this walk it is possible to see monkeys and birds. It is also possible to make a night walk through the forest to see the animals of the night, like bush babies (both activities optional).
Day 3:
Kibale Forest National Park
We shall have a morning breakfast, then drive to the park offices briefing about our Chimpanzee tracking.
Kibale Forest is a spectacular jungle, with 13 primate species! Including Chimps, Baboons, Black and White Colobus, Red Colobus, Grey cheeked Mangabey and L'Hoest monkey.
Day 4:
Kibale Forest to Queen Elizabeth National Park
In the morning after breakfast, we will drive to Queen Elizabeth National Park. We'll enter the park with a simple game drive, we happen to see a few animals meanwhile heading to our lodge. If time allows, we do an afternoon boat launch on Kazinga Channel.
The Kazinga Channel is one of the highlights of Uganda and has the highest concentration of hippos in the world.
Day 5:
Queen Elizabeth to Bwindi Impenetrable National Park
Game drive in the morning. And later we shall head south of the park to Ishasha Sector. After breakfast we drive through Queen Elizabeth National Park to the Ishasha sector in the South. The other attraction of Ishasha is the Topis, not found anywhere else in this Park.
On our way we pass through interesting villages and have some breath taking views of the mountains.Bwindi Impenetrable is a unique jungle, with many monkey species. Bwindi is one of the 2 places in the world where you can find Mountain Gorillas!!!!
Day 6:
Bwindi Impenetrable National park
Mountain Gorillas tracking!!! Early morning departure with your ranger Guide to search for one of the world's most interesting and endangered animal, the Mountain Gorilla! You will spend one hour with one of our closest relatives. An experience you will never forget.
Day 7:
Drive to Kampala, taking a different route
After breakfast, start a day's drive back to Kampala, using a different route by going via Mbarara. Have lunch in Mbarara Town . Proceed to Kampala but stop at the Uganda Equator, this is an imagined contour that divides the earth into two segments (North and South Hemisphere). Take photos at the Uganda equator and visit the craft and souvenir shop at this site, spending about 40 minutes and then advance to Kampala, arrive in the evening. Stay at City Blue Hotel or Serena Hotel
Day 8:
From Hotel to the Airport
You will be transferred to the airport 3 hours to your departure flight.